Hotel PUR Québec: A multi-million-dollar renovation to cater to international events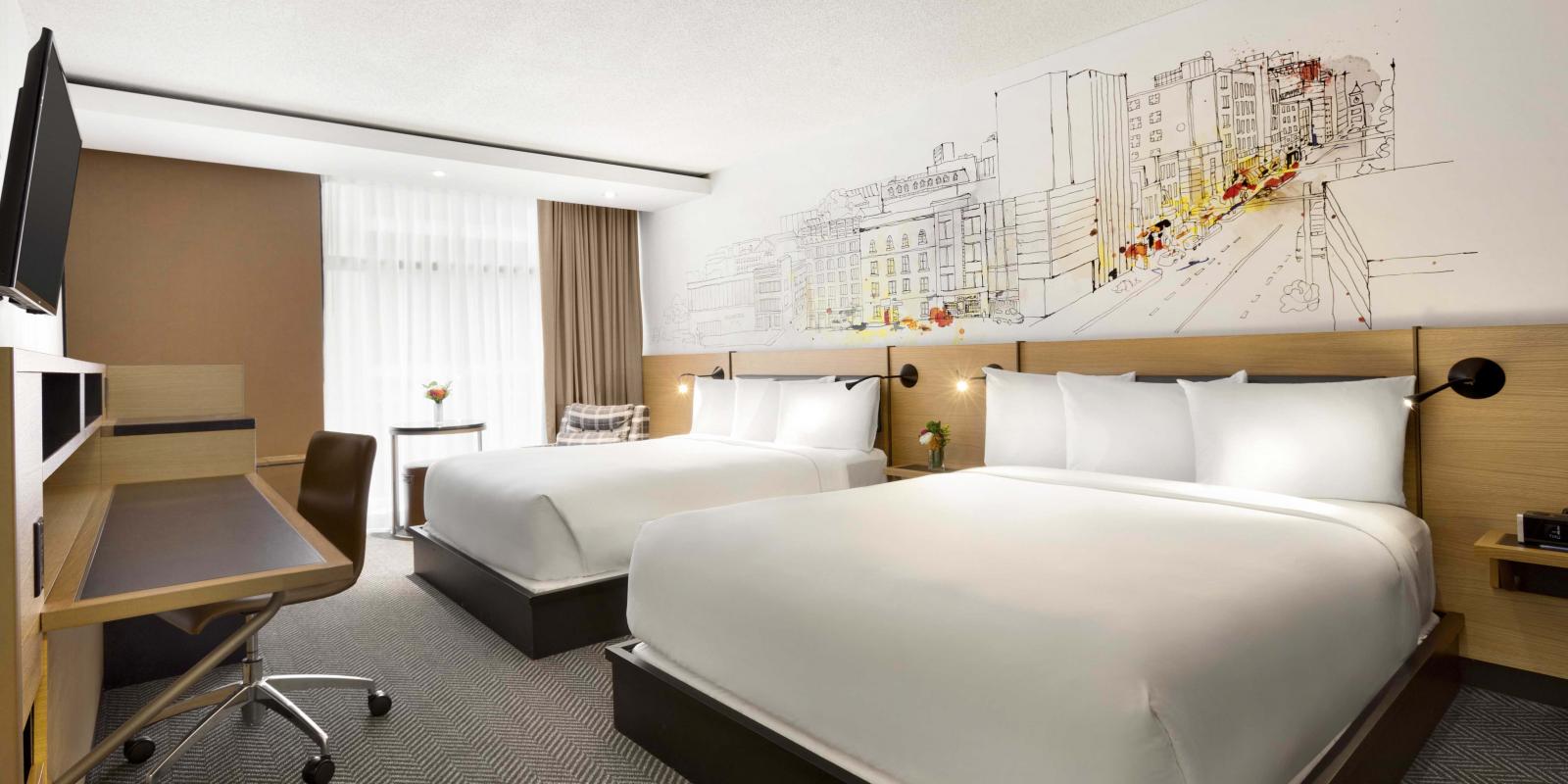 Hotel PUR Québec, a Tribute Portfolio Hotel, located in the Québec City's trendy Saint-Roch neighbourhood, completed its multi-million dollar renovation project in 2017. The hotel is now the first Canadian hotel to join Marriott International's Tribute Portfolio brand, a network of stylish and upscale independent hotels situated in several major North American and European cities—and now Canada. 
Originally built in 1975 and a staple in the Saint-Roch community, today's fully revamped Hotel PUR Québec now features 242 guestrooms with floor-to-ceiling windows and stunning city views, custom-designed furniture, architecture and murals, giving the hotel a one-of-a-kind look on par with trend-setting hotels from around the globe. It also boasts 12 000 square feet of completely redesigned meeting spaces located on the same floor, including a ballroom that can welcome up to 350 attendees, private outdoor terrace, free Wi-Fi, and top-of-the-line catering services from the renowned Table restaurant—perfect for conventions, conferences and business meetings.
The renovation project also upgraded the hotel's lobby, public and social spaces, fitness room, pool, garage and elevators. Pure and simple, Hotel PUR Québec, a Tribute Portfolio Hotel, represents Québec City's continued efforts to welcome major international events.   

Located only minutes away from Old Québec and Québec City's Place-Royale and Old Port, Hotel PUR Québec is surrounded by fashion-forward boutiques you can't find anywhere else, historical sites, museums, unique restaurants and cafés, fascinating nightlife and even a microbrewery just around the corner. Event planners will never be for want of a better location to organize after-hours activities that are quintessentially Québec.
"The newly renovated Hotel PUR Québec embodies the local culture of Québec, from its captivating design concept to the authentic art pieces throughout the hotel," said Julius Robinson, Vice President and Global Brand Lead, Tribute Portfolio. "With its independent vibe and vibrant social scene in the Nouvo St-Roch neighbourhood, Hotel PUR Québec is an excellent fit as the first Tribute Portfolio hotel in Canada."

Crescent Hotels and Resorts, a reputed Top-3 operator of hotels and resorts, has been tasked with managing Hotel PUR Québec. "Our unique approach as an award-winning Marriott manager, combined with our experience in operating lifestyle hotels in Canada and the US, will maximize the potential of this great hotel," says Michael George, President and CEO of Crescent Hotels & Resorts.
If you're an event planner organizing an upcoming convention or conference, and looking for distinct venue that combines everything your delegates are looking for when travelling to Québec City, look no further than Hotel PUR Québec, a Tribute Portfolio Hotel.