Québec City's new Entourage-sur-le-lac Resort: Mixing business with well-being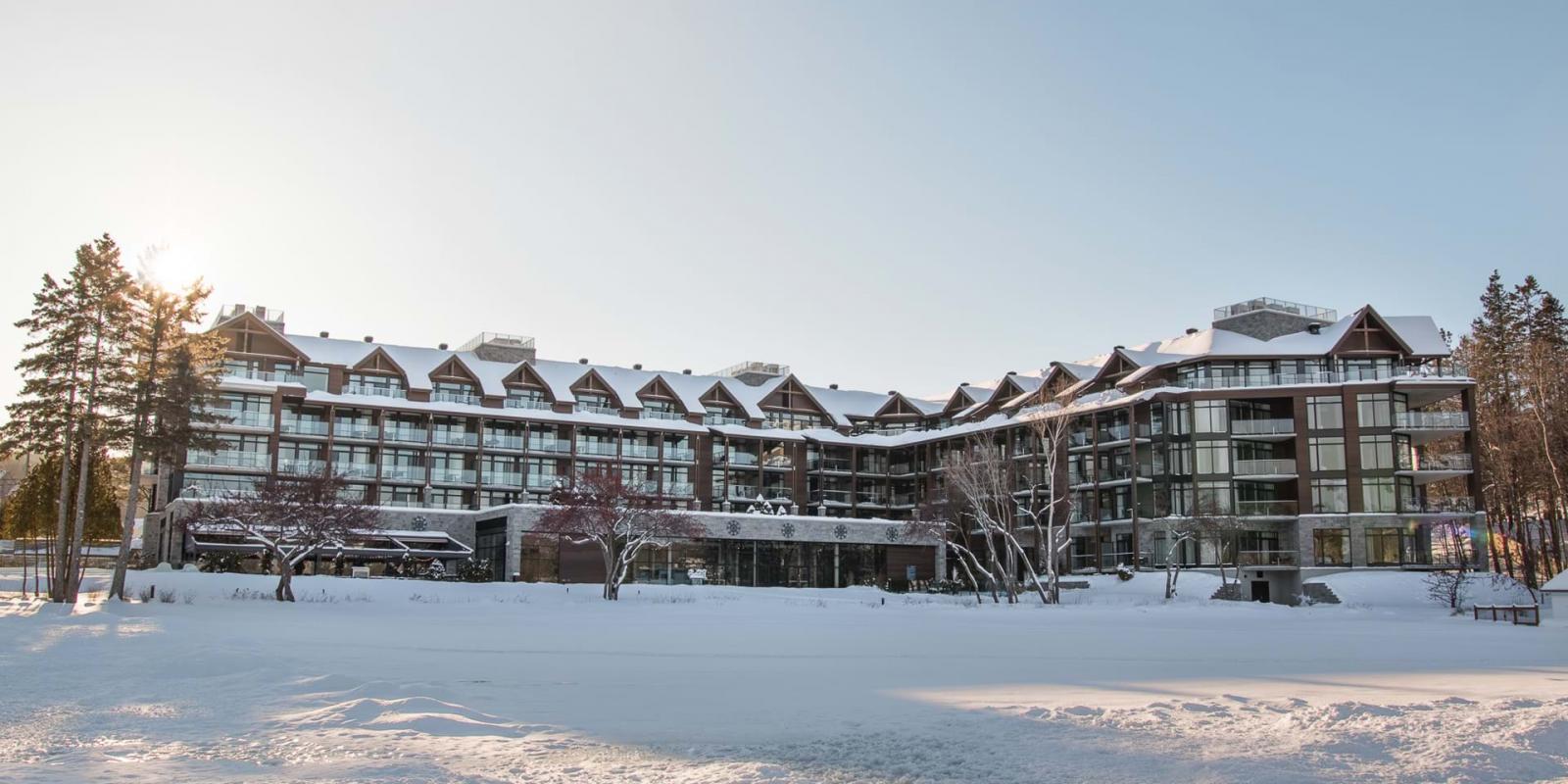 Are you planning an upcoming conference or convention in Québec City and looking for a unique venue and accommodations that mixes business with well-being? Entourage-sur-le-lac Hotel, a four-star resort that opened in September 2017, will definitely fit the bill. 
Located on the former site of Manoir St-Castin in Lac Beauport and just outside of Québec City, Entourage-sur-le-lac Hotel is a completely innovative concept that has never been seen before in the region. It is the brainchild of Groupe Kevlar and Groupe Tanguay, two promoters looking to give new life to the site. In 2015, they reached out to Mr. Alain April, Co-Owner and General Manager of Le Bonne Entente Hotel, a 5-star, 4-Star-Forbes hotel and 4-diamond hotel located in the city's business district, to have him and his team oversee the management of the entire project.
A unique concept

"We wanted to create something truly different in Québec City—a 4-star luxury resort on a lake that would be conducive for both business and well-being," explained Mr. April. "What we're seeing in the United States and Europe is that conventions and conferences are no longer chock-full of 8 hour meetings or presentations. Nowadays, event planners increasingly looking to add sports and team-building activities into their programs, both during the event and after hours."
Above all, the location of Entourage-sur-le-lac Resort was key. The resort is located on a sprawling 5-acre piece of land that is on the banks of Lac Beauport. The site has been a tourist destination since 1879 thanks to its lake access and proximity to nature. "Lac Beauport is a four-season destination and we'll be offering event planners a myriad of activities for their delegates throughout the year, including hiking, mountain biking, road biking, dragon boating, paddle boarding, cross-country skiing, dog sledding, yoga and much more," Mr. April said. "Our primary focus is on our guests' well-being and all of our employees are committed to offering an experience that allows event attendees to have both sound bodies and minds."

Other services include access to personal trainers in the hotel's 1500 sq.ft. gym, and team building sessions with local professional athletes. The resort's restaurant, managed by the reputed Le Bonne Entente Hotel, will not be a standard hotel restaurant; it will be a restaurant that is accessible to guests and citizens alike, rivaling some of the best dining options in Québec City. Three ambiances have been created: an open kitchen concept, bar and restaurant with sprawling views of the lake. The healthy menu promises to be rich in fruits and vegetables, and fish. 
We don't just want to offer activities at a resort. Rather, we want to create a structured environment and offer holistic services given by professionals so that event delegates can truly improve their well-being—even if they are at the resort for business," added Mr. April. "Attendees should be able to work well, nourish themselves properly, enjoy sports and live well.
Entourage-sur-le-lac Resort features 166 rooms, which include standard rooms, suites and a penthouse, and 6500 sq.ft. of meeting space. And while it is situated in the heart of nature, a shuttle service will be available for daily trips to Québec City, which is only a 20-minute drive away. "While we encourage delegates to take advantage of our great outdoors, we nevertheless want to make sure they experience everything Québec City has to offer: tourist attractions, museums, boutiques, restaurants…you name it," said Mr. April.
How does Mr. April feel about the project? "This project is spearheaded by a 5th generation of a family of hotel operators. My great-grandparents opened their first inn in Notre-Dame-du-Portage in 1908. To me, Entourage-sur-le-lac Resort is not only a culmination of over a century of experience but also a one-of-a-kind concept unlike Québec City has ever seen," he concluded.