CASE STUDY: How the Québec Major Junior Hockey League pulled off a successful and safe sports event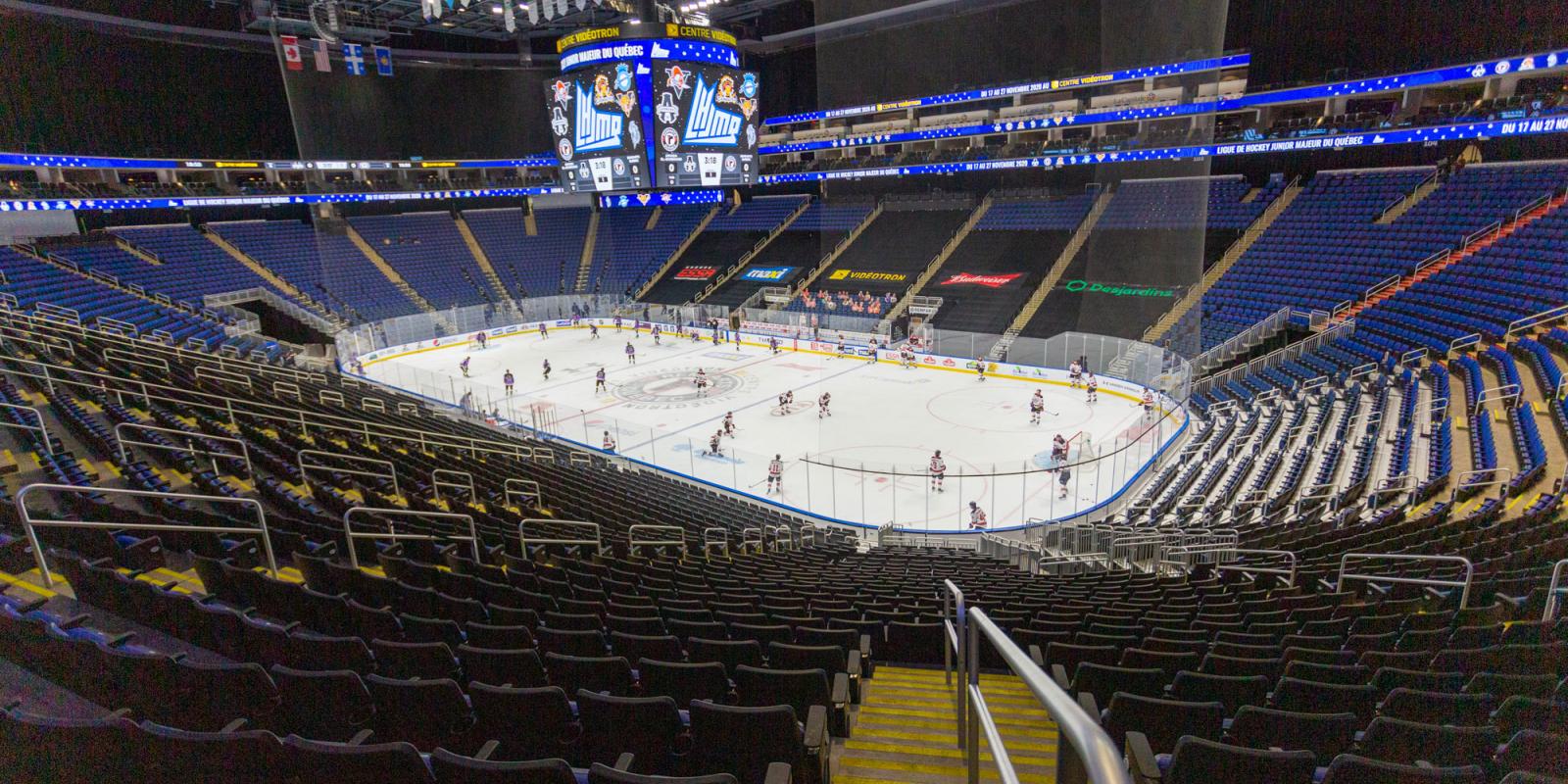 Looking for tips on how to organize a safe sports event or tournament that respects public health authorities? Look no further than the Québec Major Junior Hockey League (QMJHL) and its November 2020 hockey games, which took place at the Vidéotron Centre in Québec City.
The goal was to have  7 teams from across the province, including the Gatineau Olympiques, Drummondville Voltigeurs, Blainville-Boisbriand Armada, Victoriaville Tigers, Shawinigan Cataractes, Chicoutimi Saguenéens, and Remparts de Québec, to enter a bubble for 10 days so that the teams could compete in 21 games at the Vidéotron Centre. The games were to be broadcasted both on TV and online. 
Dubbed a "protected environment event" the QMJHL's hockey games were organized in collaboration with Québecor Sports et divertissement and the Remparts de Québec, Québec City's official major junior hockey team. 
What type of event health and safety measures were in place?
From the very beginning, the QMJHL worked with public health authorities to establish the strictest health and safety measures for the teams and their accompanying trainers and personnel. Each player and staff had to self-isolate before entering the bubble.
Everyone was tested by a private company before entering the controlled environment, and then tested again throughout the event. Masks had to be worn at all times (except on the ice). Sanitation stations and informative signage were set up throughout the arena. Physical distancing, hand hygiene and respiratory etiquette was encouraged. 
Above all, consistent communication between players, trainers and on-site staff ensured that all participants were reminded of the importance of following the event's health and safety measures.
Apart from the Vidéotron Centre, the nearby Pavillon de la Jeunesse was used for training. Three hotels were officially designated as part of the protected environment: Le Bonne Entente, Hôtel Delta par Marriott Québec and Entourage sur-le-Lac Resort. 
A typical day inside a sports event bubble
For players, a typical day began with training sessions at the Pavillon de Jeunesse or at the Vidéotron Centre if they were playing in the afternoon or evening. The teams would then go back to the hotels for lunch and either rest or study before the matches. Two hours before the games, the players would head to the Vidéotron Centre. 
According to post-event surveys, the vast majority of players and game officials felt exceptionally safe during the series. Overall, the event scored 9 out of ten in positive feedback. Because the sports event was so successful, the QMJHL organized series in other cities across the province of Québec. What's more, junior hockey leagues elsewhere in Canada are modelling the organization of their series based on best practices learned during the Québec City events.
All this work allowed for an outbreak-free series of games.
A few 

LHJMQ's bubble numbers:
21 matchs

10 days

233 players, referees and staff

1,750 night stays

8,000 meals
Tips for hosting a sports event with the right health and safety measures
Event planners looking to organize a sports event or tournament in Québec City can follow some of the following top tips to keep players and other participants safe:
 
Research the latest health and safety guidelines with

representatives from local sports event management services 

Develop a comprehensive health and safety action plan in cooperation with local public health authorities

Ensure consistent communication between coaches, players and staff, anybody involved so that everyone knows and understands the importance of the bubble. This way they are more likely to follow restrictions.

Cooperate with the designated venue to implement strategies to maintain a healthy environment for the competition, tournament or game; inquire about safety procedures and standards for ventilation, water systems and communal spaces 

Put messaging strategies in place to prevent the spread of viruses

Ensure you have a roster of trained back-up personnel should anyone fall sick or have to self-isolate as a precautionary measure

Offer coping and resilience mechanisms for any participants who have concerns about staying healthy during the event

Create a contingency plan in case anyone gets infected 
While the global pandemic has definitely caused a myriad of new challenges for event planners looking to organize a sports event, a successful game, competition and tournament can be held with grit and gumption. The most important tip of all is to follow the guidelines of public health authorities to keep everyone safe.
About the QMJHL:
For more than 50 years, the Quebec Major Junior Hockey League and its 18 teams have had the mission of developing players for professional hockey while supporting them throughout their academic endeavours in order to mould them into responsible and educated citizens.
Contact our team
Contact Ariane to learn how to plan your next sport event or convention in Québec City.