Uniquely Québec activities for events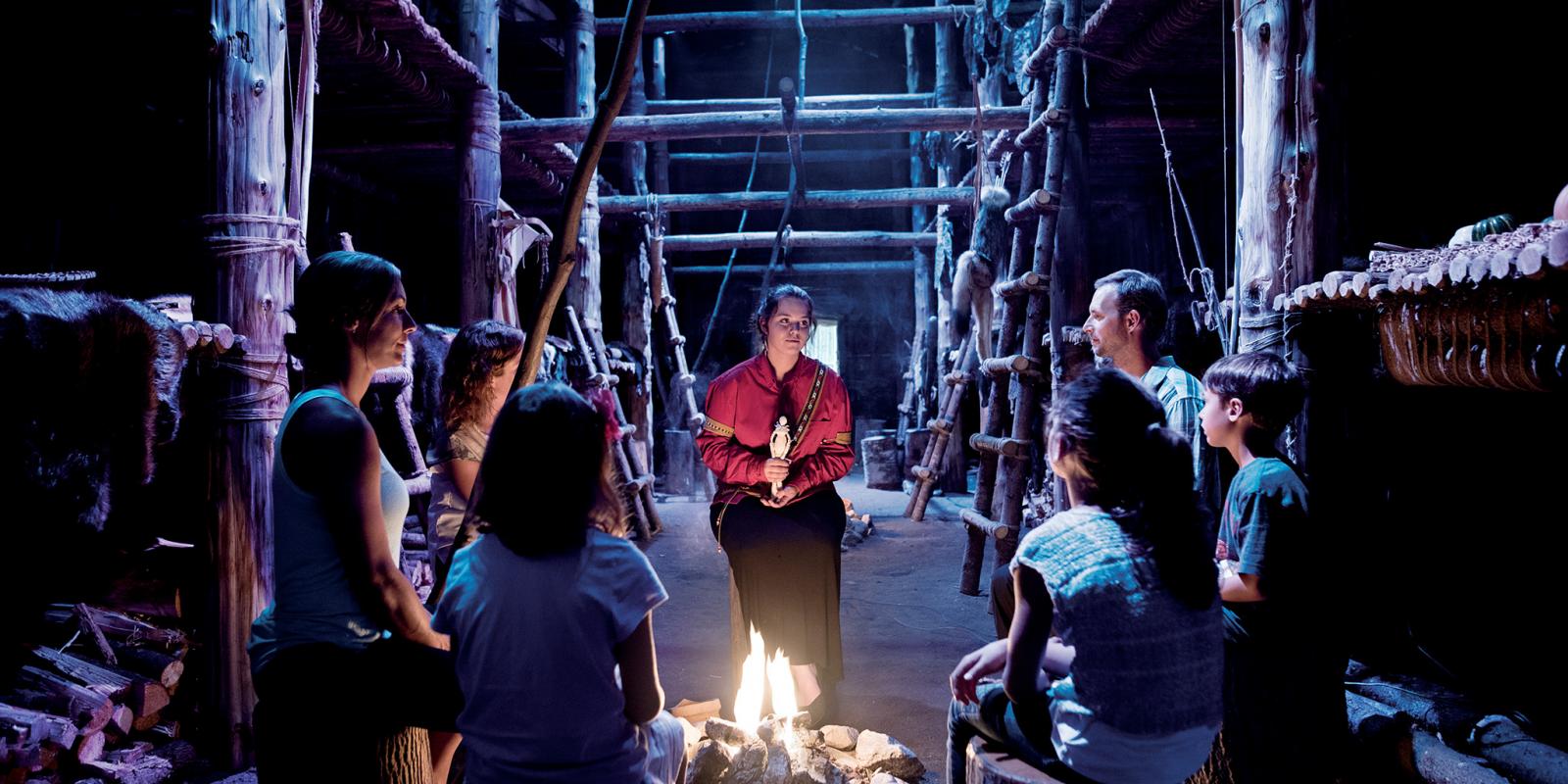 Québec City is home to some of the most iconic landmarks and epic experiences in North America. Thanks to activities and experiences that are uniquely Québec, event attendees will be able to delve into the sights and sounds of a city that is known for being the cradle of French civilization in North America and a UNESCO World Heritage Site.
No matter what time of year your event will take place, Québec City is unlike any other destination in the world. From spring to winter—and everything in between, the city is a playground for delegates to enjoy.
Here are some top, uniquely Québec group activities you can organize for your next event.
Wintertime fun
For many out-of-town attendees, winter in Québec City is their first encounter with snow. And that is quintessentially Québec in itself!
Many event planners organize tours and off-site cocktail receptions at Québec City's Hôtel de Glace (Ice Hotel). This ephemeral work of art—made entirely of ice and snow—is constructed when the cold season is firmly set in. Year after year, it features a new design as the architects look for innovative ways to build with ice. Attendees can explore the Great Hall, exhibits, the Ice Bar and chapel. Your delegates will be captivated by the fairytale-like atmosphere of the only ice hotel in North America.
If your meeting or conference is taking place at the end of January or the beginning of February, a visit to Québec City cannot be complete without taking part in the city's famous Winter Carnival, commonly known by locals as Carnaval. This winter festival, which was first held in 1894, meshes snow-filled fun, Québécers' warm hospitality and meeting up with Bonhomme, the Carnaval's adored mascot. For nine days locals and visitors alike celebrate snow with parades, canoe races on the icy St. Lawrence River, ice sculpting and lumberjack competitions, live entertainment, snow sliding in the heart of Old Québec, street hockey, snow baths and soooo much more! Carnaval is a wonderful way to delight event delegates with a group activity that is all about Québec City's traditions.
Outdoor adrenaline rushes
Do you have a lot of thrill-seekers in attendance at your next meeting or convention? Did you know that Québec City's outfitters can up anyone's game with a myriad of activities and new-found sports?
For events held in the winter, planners can organize a half day of mushing—aka dogsledding. Ahh, the magic of mushing! Dogsledding has been a part of Québec's culture since the first Europeans settled in New France, including what is today Québec City. Coureurs des bois ("runners of the woods") were French-Canadian traders who used dog sled to trade goods between the Europeans and First Nations.
Nowadays, outfitters can give event delegates the ultimate coureur-des-bois experience by teaching them about the dogs and team hierarchy as well as how to effectively mush. Then, attendees will pair up two by two, get on the dog sled, and mush on winding trails in the forest and across wind-swept fields. Don't worry: dogsledding is safe for people and the dogs. Be prepared to witness a lot of happy pooches when they realize they are going out for a run!
Another original ride in Québec is snowmobiling! Plan an unforgettable trip for attendees through groomed fields of snow and snowmobile trails in the forest! They'll take in scenery that simply cannot be appreciated at other times during the year. Snowmobiling is a spectacular experience for exploring the city's backcountry.
Additional quintessential Québec City activities for groups includes snowshoeing, skiing and snowboarding, snow tubing, fat biking, ice fishing…the list goes on and on. After a time spent outside in Québec's crisp winter, give delegates the opportunity to warm up with an artisanal hot cocoa and a scrumptious beaver tail (a dessert, for all you animal lovers out there!).
Feast on Québec's food
Spring in Québec City is synonymous with the forest coming alive—and sugaring off season! Sugar shacks open to event planners and attendees so that they enjoy a traditional and artisanal Québec meal that consists of pancakes, waffles, sausages, tourtière, eggs cooked in maple syrup (we kid you not!), and more.
To top it off, dessert is hot maple taffy, poured on snow to harden, and licked off a popsicle stick. Yum! Sugar shack owners offer visitors guided tours of their facilities, presentations on how maple sap is tapped from trees, storytelling, dancing to folk songs, and several other Québécois springtime traditions.
Another uber-popular group activity for event-goers? Delight in Québec City's hearty bounty by scheduling a food tour. Evening food tours allow event-goers to try different local restaurants with items not usually found on their standard menus. Have attendees embark on a culinary, mouth-watering journey with an itinerary that includes visits to local producers in the countryside and on Île d'Orleans. You'll definitely treat some taste buds with local ciders, cheeses. One part culture. Two parts adventure. Three parts delicious.
Authentic First Nations experiences
Québec City has a rich past that blends French, British and First Nations influences. As the first inhabitants of the land, the city's Huron-Wendat are an Iroquoian-speaking First Nations community that has left a compelling imprint on Québec's culture.
The Hôtel-Musée Premières Nations, located just outside Québec City, offers event delegates a fascinating perspective into the history, heritage and culture of the Huron-Wendat. The site offers a wide array of group activities, including savouring First Nations' culinary traditions, storytelling, team-building sessions in a longhouse, arts and crafts workshops, and much more. Attendees will be encouraged to get swept away with sports that the First Nations enjoyed over the centuries, including canoeing, fishing and animal observation. For an authentic, one-of-a-kind activity, Hôtel-Musée Premières Nations is a journey to another time and another place.
Activities to Explore
Anytime is a good time to enjoy an authentic Québec experience that will leave attendees raving. With infinite scales of beauty and options, there is never a shortage of things to do in and around the city. Pick your delegates' next adventure with a group activity in Québec City.