Great Québec City hotels for event planners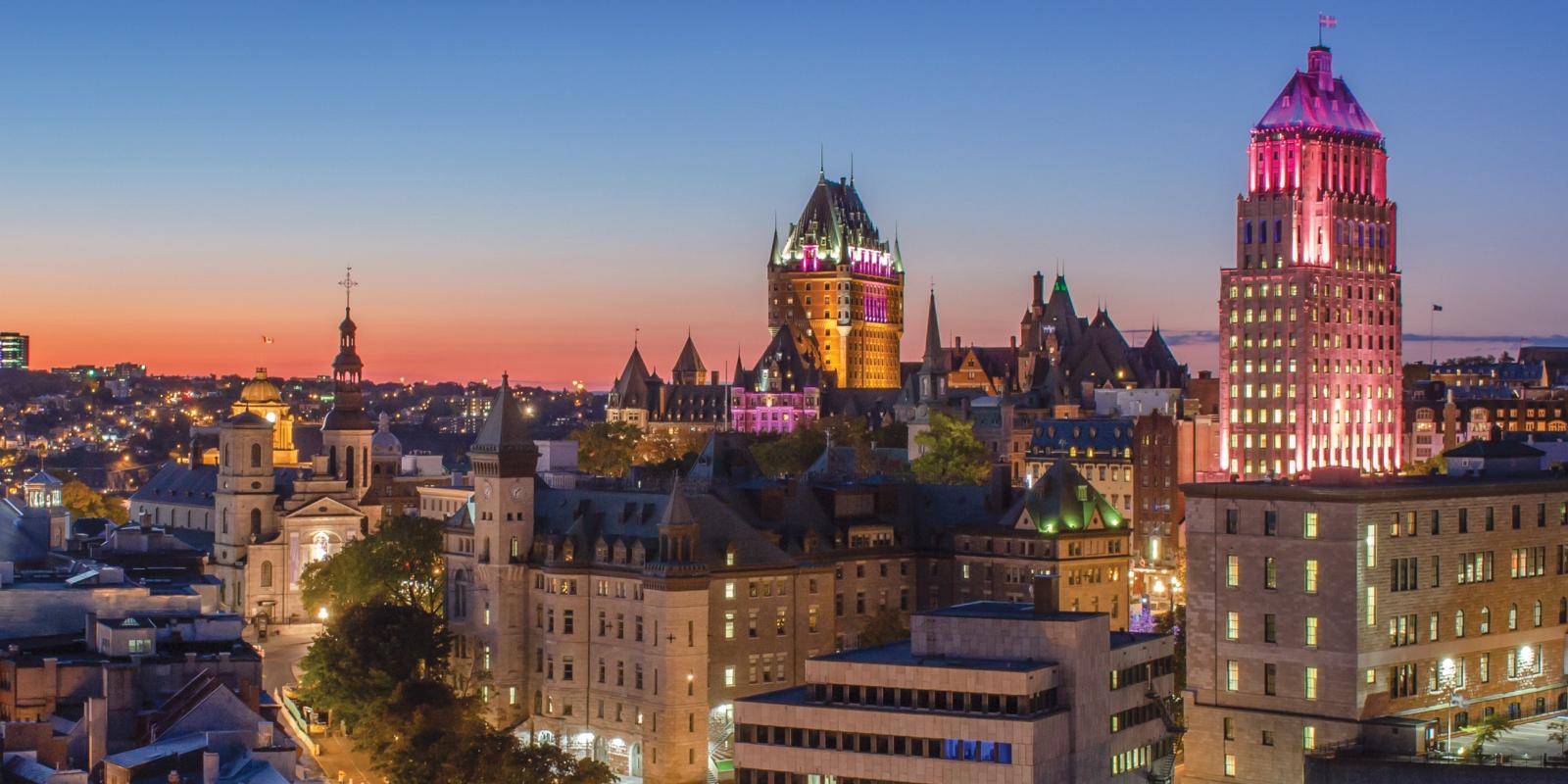 Québec City is renowned for its kaleidoscope of venues, fine dining, activities—and an array of hotels to meet the needs of any size of conference and convention. Even more impressive: many of Québec City's hotels offer their own meeting and event facilities, are located within walking distance of the many venues, tourist attractions and neighbourhoods that highlight the city's unique historical, social and cultural fabric.
We've put together a list of some of Québec City's best hotels for event planners. You're sure to find one that fits your next event bill!
300 + rooms
Fairmont Le Château Frontenac
Iconic. Luxurious. Timeless. The Fairmont Le Château Frontenac, located in Old Québec, towers over the St. Lawrence River and is the most photographed hotel in the  world. It boasts over 600 guestrooms and suites immersed in European elegance. This hotel, steeped in both history and modern-day amenities, offers both function rooms and a grand ballroom that can cater to conferences or conventions of up to 700 delegates. Four signature dining options, Champlain Restaurant, 1608 Wine and Cheese Bar, Bistro Le Sam and Place Dufferin, are renowned for their culinary masterpieces and service.
Hilton Québec
Also nestled in a prime location in downtown Québec City and providing direct access to the Québec City Convention Centre, Hilton Québec is undergoing a complete renovation in 2020. The Hilton offers 568 guestrooms and suites, many of which have exclusive, panoramic views. Rated as one of the top 50 group- and meeting-friendly hotels by HotelPlanner.com and Meetings.com, Hilton Québec has 22 meeting rooms and banquet halls with natural lighting. It also features the largest ballroom in Québec City. Whether your convention or conference caters to a few hundred or up to 2000 attendees, Hilton Québec offers highly personalized event planning expertise. 
Le Concorde Québec
Overlooking the St. Lawrence River and as the gateway to Québec City's famous street of restaurants and cafés, Grande Allée, Hotel Le Concorde Québec is ideal for any event in which attendees want in on the city's action. It offers 406 different types of rooms, many with views of Québec City and the Plains of Abraham, to suit the needs of business and bleisure travellers alike. The hotel has 26 meeting rooms that can host up to 900 attendees. While many of the city's reputed restaurants are located only a few steps away, Hotel Le Concorde Québec is home to full catering services and two restaurants, including a spectacular revolving bistro at the top of the hotel featuring the best views in Québec City!
Delta Hotels Québec by Marriott
Situated right in the downtown core of Québec City, Delta Hotels Québec, now under the Marriott hotels banner, blends contemporary sophistication and comfort. With 377 sleek rooms, which include deluxe bedding and ergonomic desk, it focuses on catering to the needs of business travellers permeates throughout each floor. Delta Hotels Québec has a wide selection of well-appointed meeting rooms to accommodate up to 600 people. Moreover, it offers event planners several online tools to facilitate attendee bookings, rooming lists, and mobile check-ins as well as direct access to the Québec City Convention Centre.  
Marriott Québec Centre-Ville

Fairmont Le Château Frontenac
200 - 299 rooms
Hôtel Château Laurier Québec
Adjacent to the Plains of Abraham and as part of Grande Allée's European-like tourist scene, Hôtel Château Laurier Québec is the perfect spot to mix business and pleasure! It is located only minutes away from Old Québec, which is a UNESCRO World Heritage Site. The hotel has 282 rooms that address any budget and business traveller requirements. Hôtel Château Laurier Québec has carved an enviable niche for itself for business, association and government events. The hotel has over 17,000 sq. ft. of function space to welcome up to 500 delegates. Its renowned Le George V catering service is known throughout the city for its excellence and creativeness.
Hotel PUR Québec
Hotel PUR Québec stands in the historic, yet revitalized Saint-Roch, a trendy downtown neighbourhood that is home to IT companies, artists and artisans as well as fashionable restaurants and boutiques, a gorgeous garden and other of Québec's historic landmarks. It features 242 rooms with floor-to-ceiling windows, impressive city views, and trendy urban decors. Hotel PUR Québec's meeting spaces include 12 function rooms that can be transformed into any setup. Fresh from a multi-million-dollar renovation project, this hotel is the epitome of urban sophistication!
Palace Royal
At the crossroads  between Place d'Youville, Parliament Hill and the colourful neighbourhood of Faubourg Sain-Jean, Palace Royale is burrowed right in downtown Québec City. Its 234 different rooms and suites offer beautiful views of the hotel's indoor oasis, the St. Lawrence River, Ile d'Orléans and the far-off mountains that Québec City residents consider their outdoor playground. Thanks to its nine opulent meeting rooms, ballroom and private lounges, Palace Royale can welcome both smaller and larger functions. 

100 – 199 rooms
Hôtel Manoir Victoria
Upscale and contemporary, Hôtel Manoir Victoria is situated in the heart of Old Québec, right inside the city's fortifications. Originally built in the 19th century, this four-star hotel features 156 recently renovated rooms and eight function rooms that can accommodate up to 175 event attendees. Hôtel Manoir Victoria offers a wide range of event services, including award-winning catering services that feature local produce and Nordic cuisine. 
Le Bonne Entente Hotel
Distinctive and distinguished, Le Bonne Entente Hotel is about 20 minutes from Old Québec. It is an urban resort unlike any other hotel in the city, with 160 rooms, sprawling gardens, exclusive, high-end dining, and much more! The hotel's exclusive event services team will help planners design a conference or convention in one of its 20 function rooms or at the La Tempête Golf Club that can host up to 500 people.
ALT Hotel Québec
Only a 15 minute drive from the Québec City Convention Centre, ALT Hotel Québec is situated in a Québec City district that features a wide array of dining and shopping options. The ALT hotel experience banks on affordable luxury, contemporary design and convenience. The hotel has 127 ultra-comfortable rooms and all the amenities busy business travellers need. It offers several different event spaces that can welcome up to 200 delegates. 
These are only but a few of the many (many!) hotel options that Québec City has for major events. No matter what type of business event you're organizing, you're sure to find one that meets you and your attendees' needs!