Hilton Québec
Accommodation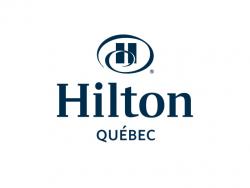 1100, boulevard René-Lévesque Est
C. P. 157, succursale Haute-Ville
Québec
QC, G1R 5V2
Come for the view, stay for the experience!
Located steps from Old Québec and Parliament Hill, the new Hilton Québec offers 569 modern rooms and spacious suites with spectacular views.
Directly connected to the Québec City Convention Center, the hotel has the largest ballroom in town. The 22 meeting rooms (23,000 sq. Ft. of space) with natural light are ideal for all types of events. Learn about the new Hilton CleanStay and EventReady standards. Our goal: to transform the ordinary into the extraordinary.
CITQ Number: 054806
Number of Units: 569
Number of Units With Air Conditioning: 569
Number of Units With Private Bathroom: 571

Electric Vehicle Charging Station:
Yes
Access for Mobility Impaired People:
Total
Parking:
Indoor on site for a fee
| | Available | Unavailable |
| --- | --- | --- |
| Airport Shuttle | | |
| Business Centre | | |
| Concierge | | |
| Elevators | | |
| Exclusive caterer | | |
| Fitness Centre | | |
| Free WI-FI Internet | | |
| Indoor Spa | | |
| Loading Dock | | |
| Old Québec Shuttle | | |
| On-site AV services | | |
| Outdoor Pool (4 seasons) | | |
| Outdoor Spa | | |
| Outside caterers authorized | | |
| Valet Parking | | |
Number of meeting rooms: 21
Total surface area: 2 136.75 m² 23 000.00 ft²
Room
Area
L x W
H
Theater
Banquet
Classroom
Reception
Booths
Salle de bal & portes

10 623.00

986.90

-

-

20

6.1

1150
910
575
1400
58
Palais

3 843.00

357.02

61 X 63

18.6 X 19.21

20

6.1

500
360
250
550
18
Saint-Louis

1 890.00

175.59

63 X 30

19.21 X 9.15

20

6.1

200
180
125
275
0
Kent

1 890.00

175.59

63 X 30

19.21 X 9.15

20

6.1

200
180
125
275
0
Villeray

1 500.00

139.35

50 X 30

15.24 X 9.15

12

3.66

110
120
45
250
0
Plaines

1 495.00

138.89

23 X 65

7.01 X 19.82

10

3.05

120
110
60
180
0
De Tourny

1 367.00

127.00

49.2 X 27.6

15 X 8.41

12

3.66

100
110
50
150
0
Dufferin

1 225.00

113.81

49 X 25

14.94 X 7.62

12

3.66

100
90
50
125
0
Beauport

1 190.00

110.55

34 X 35

10.37 X 10.67

10

3.05

120
90
60
100
0
Bélair

665.00

61.78

19 X 35

5.79 X 10.67

10

3.05

60
50
30
60
0
Portneuf

607.10

56.40

25.4 X 23.9

7.74 X 7.29

12

3.66

50
50
24
50
0
Sainte-Foy

607.10

56.40

25.4 X 23.9

7.74 X 7.29

12

3.66

50
50
24
50
0
Artisan

595.00

55.28

35.1 X 17

10.7 X 5.18

-

-

0
0
0
0
0
Courville

568.30

52.80

25.6 X 22.2

7.8 X 6.77

12

3.66

50
50
24
50
0
Montmorency

568.30

52.80

25.6 X 22.2

7.8 X 6.77

12

3.66

50
50
24
50
0
Beaumont

542.50

50.40

15.5 X 35

4.73 X 10.67

10

3.05

50
30
25
50
0
Pellan

470.40

43.70

24 X 19.6

7.32 X 5.98

10

3.05

0
0
0
0
0
Lauzon

392.00

36.42

28 X 14

8.54 X 4.27

12

3.66

30
30
20
40
0
Orléans

298.80

27.76

12.5 X 23.9

3.81 X 7.29

12

3.66

25
20
0
30
0
Duchesnay

286.40

26.61

12.9 X 22.2

3.93 X 6.77

12

3.66

25
20
0
30
0
Sillery

286.40

26.61

12.9 X 22.2

3.93 X 6.77

12

3.66

25
20
0
30
0
Grande Place

0.00

0.00

-

-

-

-

0
250
0
800
20
CABU - Loge

0.00

0.00

-

-

-

-

40
0
0
0
0
1100, boulevard René-Lévesque Est
C. P. 157, succursale Haute-Ville
Québec, QC,
G1R 5V2