Québec City's innovations in the food and nutrition industry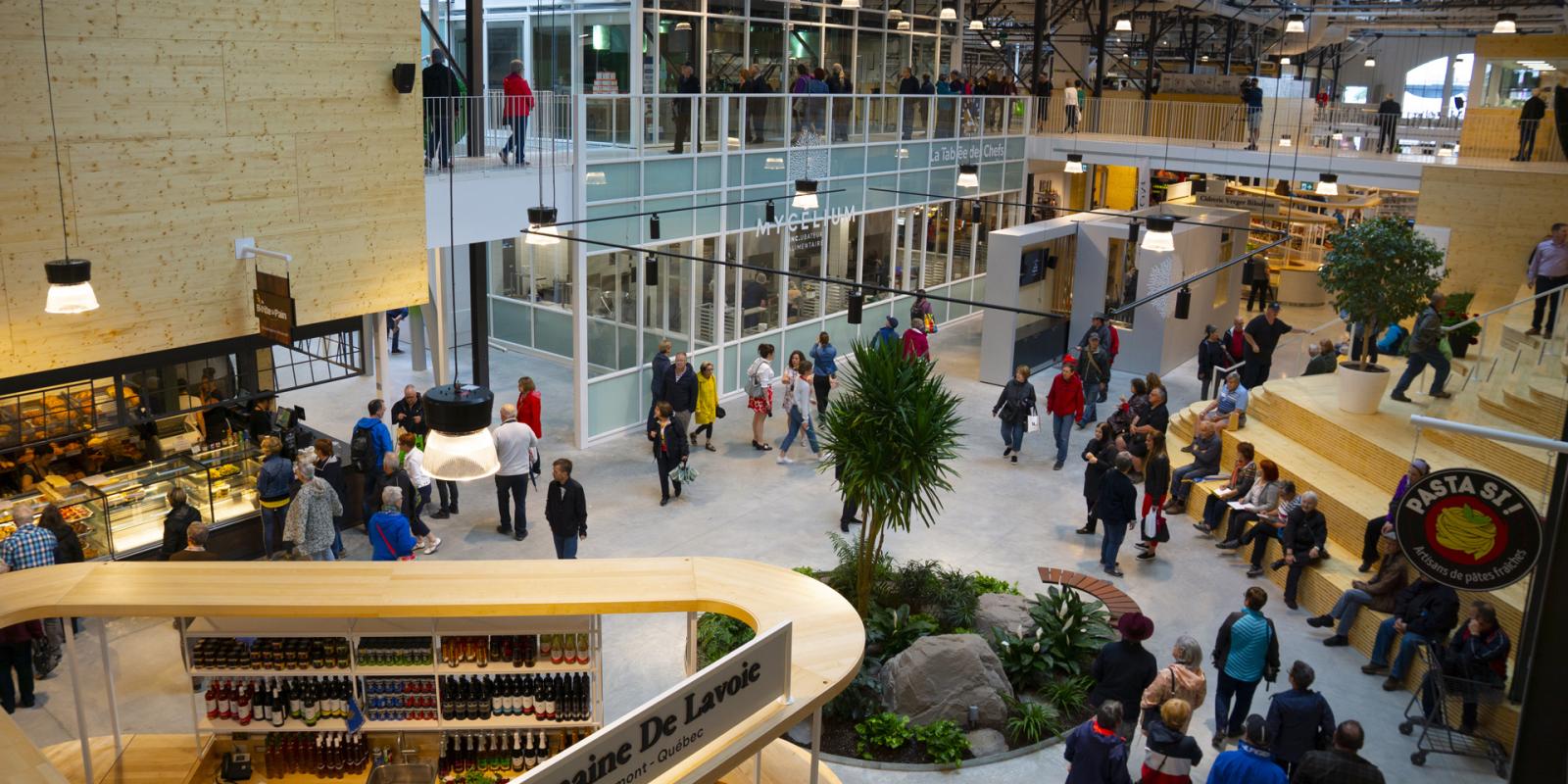 Le Grand Marché de Québec
Québec City is renowned for being a food lover's haven. That goes without saying for all who visit the city thanks to its reputed cuisine and restaurants. However, Québec City region is also a pioneer in advanced research and innovations in the food and nutrition industry. In fact, it is one of the city's key industries—a sector that is undergoing a major transformation and an entrepreneurial effervescence that has never before been seen.
Mycélium: Québec City's incubator for food and nutrition businesses
One of Québec City's latest strategies to take its food and nutrition industry to a whole new level is the recently launched Mycélium, a one-of-a-kind incubator that encourages entrepreneurs to carry out research and development as well as commercialize their unique value-added food products.
"People are more concerned about what they eat than ever before. And with the rise of the Internet, social media and a foodie culture, people are more open to try new cuisines and types of food. Combined, these factors have galvanized Québec City's agri-food business," explained Mr. Jean-François Lessard, Mycélium's Coordinator. "They have also incited many entrepreneurs and visionaries to take their ideas that have been brimming for some time and bring them to fruition."
Based on an original idea by the City of Québec and managed by Ag-Bio Centre, a local organization that has been supporting the growth of companies in the agri-food, biotechnology and environmental science sectors for over 18 years, Mycélium offers a wide range of services for start-ups, including incubator, accelerator and coaching programs.
An extensive program for up-and-coming food entrepreneurs
"Our first cohort, which started in January 2019, brought together 10 entrepreneurs with some pretty fascinating ideas. Their innovations are likely to cause a stir in their respective markets," Mr. Lessard said.
According to Mr. Lessard, participants, armed with their creative ideas and sheer gumption, undergo hundreds of hours of training over the course of a year with experts from the École Hôtelière de la Capitale, the HEC and Université Laval in a variety of fields ranging from food chemistry to accounting to marketing. The entrepreneurs are also paired with specialists in the industry and get access to time in a lab-like kitchen to fine-tune their concepts. What's more: there is even a market validation component to the program that allows budding businesses to conduct market tests with focus groups. Mycélium can also help entrepreneurs obtain financial support for their project.
"Mycélium is all about creating a collaborative ecosystem for entrepreneurs and enabling them to tap into a thriving network of specialists. Entrepreneurs who fit our admissions profile never have to go it alone. We offer the end-to-end services budding companies need to confirm that their ideas are commercially viable and bring their concepts to the 'go-to' market stage," Mr. Lessard added.
Mycélium's facilities are located in Québec City's Grand Marché de Québec, its newest and expansive food market that features an array of local producers and businesses that showcase the region's culinary fare. "This provides an environment conducive to showcasing our entrepreneurs' products once there are ready to hit the market."
Mr. Lessard points out that Mycélium's services have garnered so much interest that the incubator will welcomes a second cohort in fall 2019 and a third in January 2020.
Le Grand Marché de Québec
Québec City's long-standing prowess in the agri-food sector
While Mycélium just started in 2019, Québec City's food and nutrition industry has experienced unprecedented growth for the past few years. Julie Daigle, Director of Québec Nutri, explained that the city's main stakeholders, including agri-food businesses, entrepreneurs, researchers, educational institutions, trade schools and governmental entities, have united to create an ecosystem that is centred on food innovation.
"This ecosystem ensures concerted efforts to help agri-food businesses access the abundance of knowledge of research centres to create new functional foods, nutraceuticals, non-animal protein sources, and more," Ms. Daigle said. "And Québec Nutri helps to create these important ties."
Québec Nutri is the Food and Nutrition Cluster at Québec International, Québec City's leading economic development agency. Through different projects and initiatives, Québec Nutri supports agri-food businesses in developing new, healthier products and increasing their competitiveness.
And the numbers are indeed staggering. According to Ms. Daigle and Québec International, Québec City boasts 160 companies in the food and nutrition industry, which generate over CDN $1.3 billion in revenues. The sector employs 11,500 people and has 400 laboratories, research chairs and research centres with more than 5,500 researchers. "For a city the size of Québec City, that is very impressive," said Ms. Daigle.
Ms. Daigle also points out that many internationally renowned agri-food businesses are choosing to set up operations in Québec City. For example, Kerry Group from Ireland recently invested in a 17-million-dollar expansion in its Québec facilities. Mexican giant Grupo Bimbo also injected millions of dollars in its Canada Bread factory in Québec City. In order to expand its consumer healthcare portfolio, Nestlé, headquartered in Switzerland, acquired Atrium Innovations for US $2.3 billion and is leveraging the latter's know-how to innovate in high-growth food and beverage categories.
"These expansions and acquisitions attest to Québec City's growing creative mindset and the local ecosystem's determination to position the city a global, top-tier in food and nutrition innovation in order to address the world's mounting sustenance, health and environmental challenges," Ms. Daigle concluded.