Top unforgettable winter experiences for event attendees in Québec City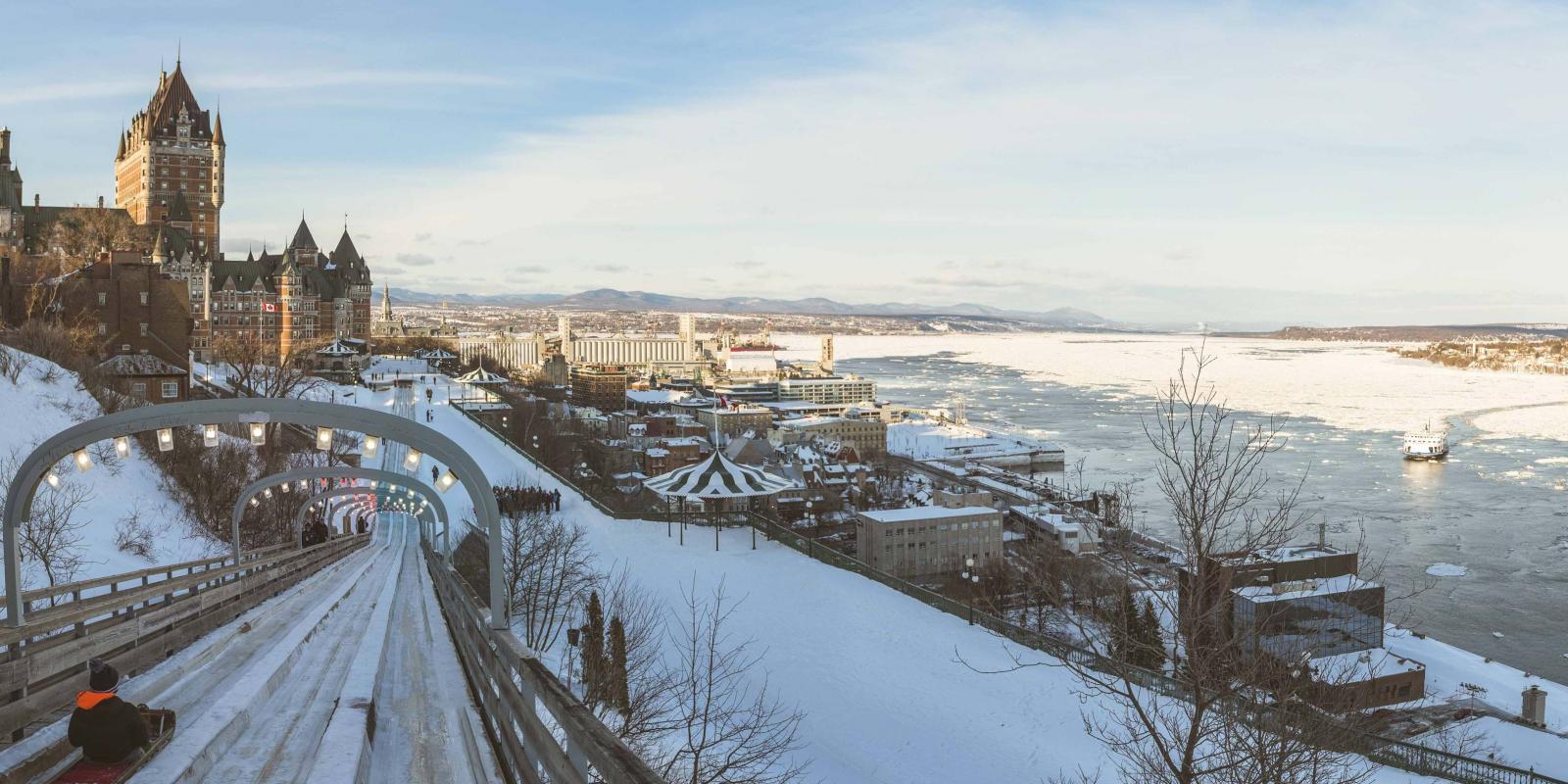 Québec City has always been a fascinating go-to destination for event planners looking to organize a one-of-a-kind conference or convention in the wintertime.
Québec City in winter is synonymous with pristine snowscapes, warm-hearted outdoor fun and cozy gatherings around delicious feasts. It is a beautiful kaleidoscope of old-world charm and an alluring winter wonderland—the perfect backdrop for any event. While many cities hunker down for the winter, Québec City brims with an otherworldliness and exhilarating atmosphere that you simply can't find anywhere else.
Are you an event planner searching for a host city that will blow attendees minds and have them raving for years? Discover our top winter experiences in Québec City that are sure to dazzle and delight your delegates.
Will your event attendees be pressed for time and have less than three hours to visit Québec City on their own? Not a problem! They can take stroll throughout the streets of Petit Champlain and Place-Royale, which resembles a beautiful Christmas village and brings visitors back in time to 17th century New France.

Then, delegates can take the Québec City ferry to Lévis for stunning views of the city. Upon their return to Old Québec, encourage them to try a toboggan ride right beside the Fairmont Le Château Frontenac. More than 100 years old, these three icy toboggan lanes offer beautiful cliff-side sights of the St. Lawrence River—just before you zoom down at speeds of up to 70 km/hour!

If your convention is at the beginning of February, make sure to carve some time in for your attendees to enjoy Québec Winter Carnival, which in 2019 will take place from February 8 to 17, 2019. This world-renowned Carnival, which dates back to 1955, celebrates winter and Québec's long-standing love of snow. It features a wide variety of celebrations, parades, sports events and more for visitors to get swept up in a winter ambiance!

There are a lot of activities event attendees can enjoy if they have a half a day of free time. For people who love to learn about a region's flora and fauna, they should visit the Aquarium du Québec. The Aquarium showcases nearly 10,000 specimens that represent 300 species of mammals, fish, invertebrates, amphibians and reptiles. It's a huge 16-hectare site that can be explored indoors and outdoors alike, along with enchanting views of the St. Lawrence River and marine mammals.

If your conference and convention is taking place at the Québec City Convention Centre, there are a myriad of winter sports that can be enjoyed minutes nearby. For example, visitors can skate at the Patinoire de la Place D'Youville, which borders Québec City's fortifications. The Plains of Abraham, considered one of the most prestigious urban parks in the world, offers cross-country skiing, snowshoeing and skating, including equipment rentals. Ice fishing at the Nordik Village at the Old Port allows visitors to sit in an inflatable igloo and fish right on the frozen waters of the Louise Basin.

Got animal lovers and adrenaline seekers in attendance? Book a half day of dog sledding in areas only a quick drive from Québec City's downtown core. Mushing with Huskies in the countryside and forest certainly takes people's minds of the daily grind!

If you are aiming to organize a full day of winter exploration, you're in luck! Just half an hour from Québec City, you can channel delegates' inner kids at North America's largest winter playground, Valcartier Vacation Village. Imagine snow rafting down three heart-pumping slides, zipping through 35 different inner tube slides and discovering the only ice hotel in North America—an architectural marvel that is made entirely of snow and ice!

Attendees can also hit the ski slopes at Mont-Sainte-Anne; with 71 runs on three faces of the mountain, two snow parks, 1 boardercross run and alpine touring is an idyllic opportunity for visitors to immerse themselves in mountain life—day or night!

For a more relaxing time outdoors, you can plan a complete day of activities at the Parc national de la Jacques-Cartier, a vast, mountainous plateau that is cut by deep, glacial valleys and seasoned with a gorgeous coniferous forest and deciduous trees. Whether attendees want to try winter hiking, skiing, skating, kicksledding, skiing fat biking or a guided winter adventure in the backcountry, they'll never want to leave this serene park!

The joys of winter in Québec City cannot be beat. Armed with a few extra layers, mittens and a quintessential toque, event attendees will embrace the snow and enjoy cool memories for years to come!