Exploring Québec City's First Nations Roots for your events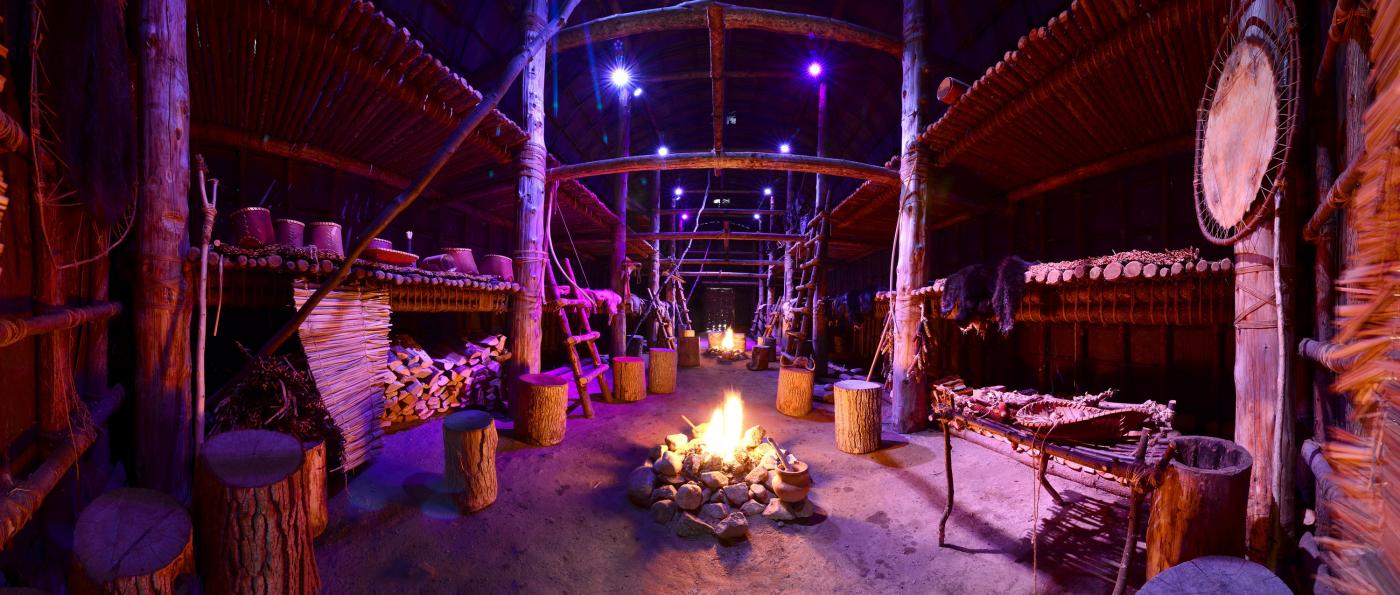 While Québec City is renowned as being the cradle of French civilization in North America and a city marked by French and British influences, it also has deep ties to the Huron-Wendat First Nation—one of the first Nations to inhabit Canadian lands as early as 500 AD.
When French explorer Jacques Cartier sailed down the St. Lawrence River and discovered North America in 1534, Donnacona, Grand Chief of the Huron-Wendat, welcomed to his village of Stadacona, situated where Québec City now stands. From that moment on, the Huron-Wendat First Nation's customs and beliefs made their imprint forevermore on Québec's history and present.
Today, the Huron-Wendat is a distinct and free Nation that resides in Wendake, which is located just on the outskirts of Québec City. Thanks to the community's dedication to self-determination and preserving their heritage, the Huron-Wendat First Nation opens its doors to visitors so that they can explore Québec's fascinating indigenous legacy.
The Wendake territory spans just over one hundred hectares and is brimming with truly authentic First Nation experiences—which is key to embracing Huron-Wendat traditions.
"There is a tremendous difference between activities and attractions that pay tribute to the real culture of a First Nation, such as the Huron Wendat, and entertaining folklore, which oftentimes confuses the mores and customs of different Nations, promotes popular misconceptions, and creates myths that are not aligned with our sacred narratives," explained Danisse Neashit, who oversees tourism sales development at Tourisme Wendake. "At Wendake, our tourism offer is synonymous with authenticity."
When visitors first arrive at Wendake, they are systematically amazed at the welcome and how eager our people are to share their traditional knowledge and know-how, Ms. Neashit explained.
"These are rare moments whereby non-indigenous visitors—and indigenous travellers from other Nations—can appreciate Huron-Wendat culture, art, rituals, cuisine and intimate ties with nature.
Hôtel-Musée Premières Nations

Hôtel-Musée Premières Nations, deemed a Canadian Signature Experience, is a four-star boutique hotel and museum that immerses guests in Huron-Wendat heritage. It offers a myriad of packages that can include guided tours, exhibits, traditional jewelry-making workshops, legend-telling and tea time in a longhouse as well as visits to traditional sites around Wendake.
It also offers comprehensive event planning services for up to 400 guests as well as team-building activities based on Huron-Wendat traditions. For example, business meetings are often kicked off with a purification ceremony by a Huron-Wendat sage.
The hotel's restaurant, La Traite, brings patrons on a gastronomic journey to relish in aboriginal-inspired cuisine, ingredients from the boreal forest, and First Nations' wines.
Hôtel-Musée Premières Nations' terrace, voted one of the most beautiful terraces in Québec, according to Magazine Prestige, also gives visitors the opportunity to relax in Wendake's pristine nature, right by the Akiawenrahk' River—a delightful experience in itself after a day of exploring!
Wendake is home to array of authentic First Nation activities that can be enjoyed by people of all ages.
Onhoüa Chetek8e Traditional Huron Site
The Onhoüa Chetek8e Traditional Huron Site is an authentic reconstruction of a Huron village. Guided by an experienced Huron-Wendat guide, visitors learn about the First Nation's past way of life, ancestral medicine, traditional means of transportation and nutrition, first contact with Europeans, and much more!
Ekionkiestha' National Longhouse

Accessible all year round, the Ekionkiestha' National Longhouse organizes activities in which storytellers pass on the myths and legends of the Huron-Wendat First Nation. Guests can partake in guided tours—or even spend the night in the longhouse under the supervision of the fire keeper!
International Pow Wow
Each year, at the end of June, Wendake plays host to the International Pow Wow, which brings together dancers and drummers from many different First Nations from across North America. The annual program is chock-full of fun ways to learn about First Nations' traditions, ceremonies and even dance/drum competitions!
Tsawenhohi' House
Completed in 1820, the Tsawenhohi' House was first occupied by Grand Chief Nicolas Vincent Tsawenhohi, who is a National Historic Figure. The house was a meeting place for the Huron-Wendat First Nation during the 19th and 20th centuries; today, it is a cultural institution dedicated to the preservation and transmission of traditional crafts.  
Huron-Wendat boutiques
The Huron-Wendat First Nation takes pride in its arts and crafts. For visitors looking for authentic jewellery, paintings, sculptures, snowshoes, leather works, moccasins, clothing, sacred herbs and more, Wendake has a dozen boutiques to find one-of-a-kind gifts and mementos.
Natural adventures
The Huron-Wendat First Nation's relationship with nature runs deep. Several seasoned outfitters, owned by members of the community, offer adventures in Wendake's surrounding nature throughout the four seasons. From river canoe tours to snowshoeing expeditions, there are many opportunities for visitors to enjoy traditional Huron-Wendat activities in the great outdoors!
Wendake is an indigenous cultural gem in Canada. A visit or stay affords a unique window to the very soul of the Huron-Wendat First Nation—and a means to foster better intercultural awareness and respect.