6 tips for hassle-free tradeshow installation and dismantle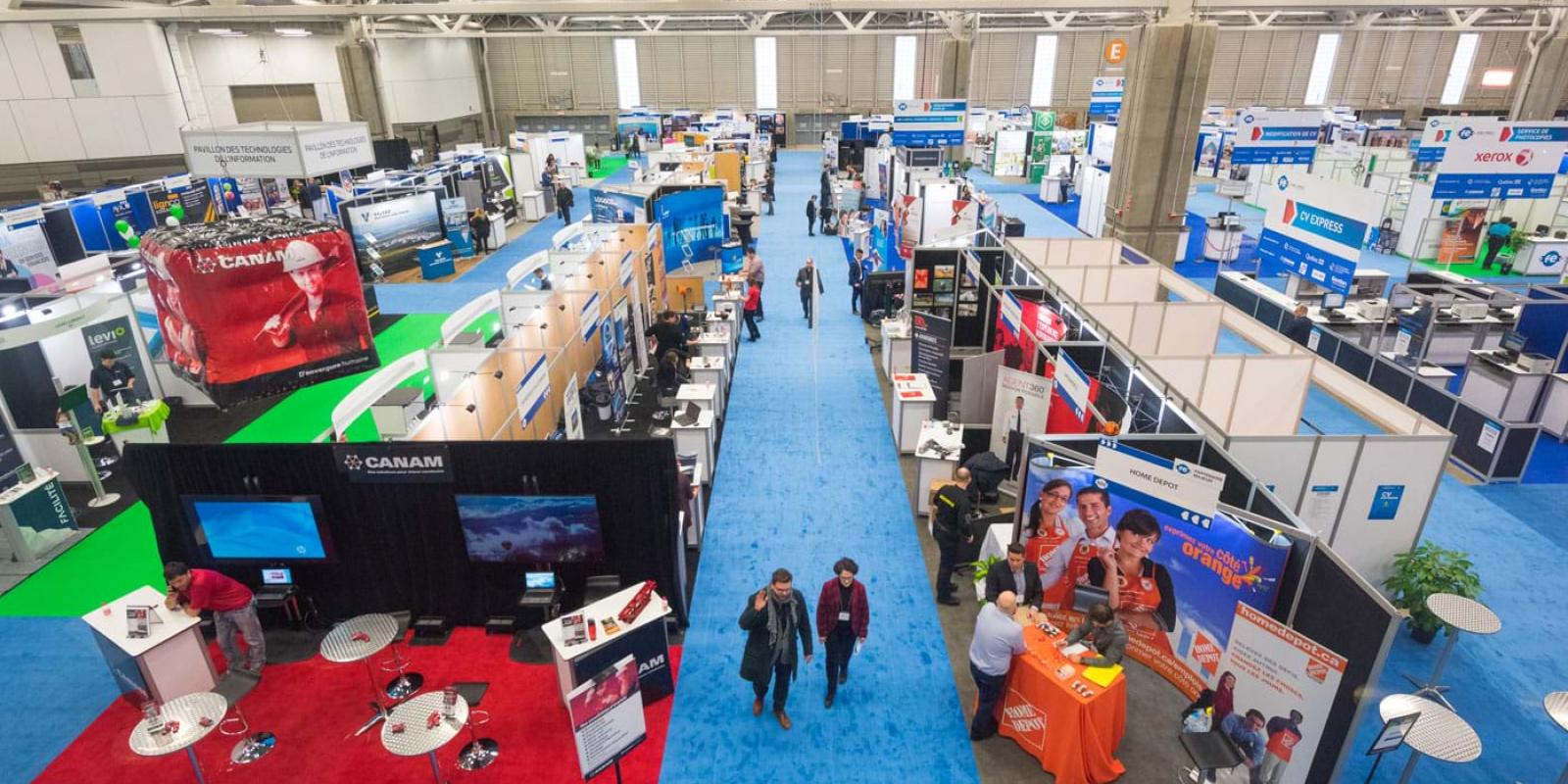 Undoubtedly, one of event planners' most nerve-racking parts of overseeing a client's exhibit at a tradeshow is the installation and dismantling (I&D) of the booth. Let's face it, aside from the costs, time and complexity, unforeseen circumstances regarding booth setup and teardown can definitely impact the successful outcome of a tradeshow.
But all is not doom and gloom when it comes to trade show logistics! Dare we say tradeshow installation and dismantling can actually be—fairly seamless?
"Over the years, I've certainly seen my share of tradeshows," explained Mr. Lachance. "And there are some basic guidelines to follow that will ensure tradeshow logistics are fairly hassle-free."
We sat down with Simon Lachance, Director of Operations at ExpoCité, which commercially manages event facilities on a 371 000 m2 site near downtown Québec City. The site features several multi-purpose buildings and services for all types of huge gatherings, including tradeshows, concerts, sports events, business meetings and more.
Here are his top 6 tips.
Read all event-related documentation as soon as you receive it so that you can right away note down important deadlines and information about sourcing labour, equipment, rentals and service orders. Make sure you fully understand the rules and regulations to determine what is—or isn't allowed—when it comes to tradeshow booths as well as union jurisdictions. Most venues provide exhibitor guides. They are the perfect basis for event organizers to develop their own guides for exhibitors.

2

Research the venue itself.

"Event planners should talk to venue representatives or trade show promoters about all the details that could delay setup or teardown," Mr. Lachance said. "For example, how accessible is the venue for delivery trucks? What type of handling services does it offer? How close is it to services in the area should you need to get some last-minute items." Exhibitor manuals and venue websites often offer this type of information.

Keep your trade show staff and attendees safe by conducting a risk assessment. Determine the venue's guidelines are in case of an emergency, should, for example, something catch on fire or a sign falls down. "This is a very important step to carry out—not just for setup and teardown but also during the entire show," said Mr. Lachance. He also indicated that event planners should have emergency contact numbers readily available and train booth staff accordingly.

4

Provide exhibitors with sample inventory lists.

While in the heat of the installation and dismantle action, exhibitor items can get lost or misplaced. To help exhibitors out, create a generic list of all the items exhibitors should take stock of, including booth and materials, that they are sending inbound and outbound, whether it is via carrier, themselves or show staff. Show exhibitors how to properly identify all items using detailed labelling. This is important so that no missing valuables (think: an expensive monitor or laptop) go unchecked.
 

5

Provide guidelines for important paperwork.

With customs, installation and dismantle, there can be a lot of paperwork. Unfortunately, the slightest mistake when filling it out or even missing paperwork at a show can cause exhibitors many a headache indeed. Offer guidelines for exhibitors to fill out mission-critical paperwork, including the phone numbers of key contacts should they have any issues.  

6

Always have a supervisor on site.

Never leave booth setup and teardown only to installation and dismantle suppliers. While they are professionals, they are nevertheless under the gun to carry out their work with many exhibitors. Make sure you or an authorized staff member is on hand to observe the installation and dismantle crew and instruct them on unpacking or packing your trade show material.

Successful trade shows start with stellar logistics. If event planners properly organize their installation and dismantle in advance, exhibitors will have a pleasant tradeshow experience and be eager to take part in upcoming editions.