Le Capitole Hôtel: A blend of luxury, gastronomy and entertainment for your events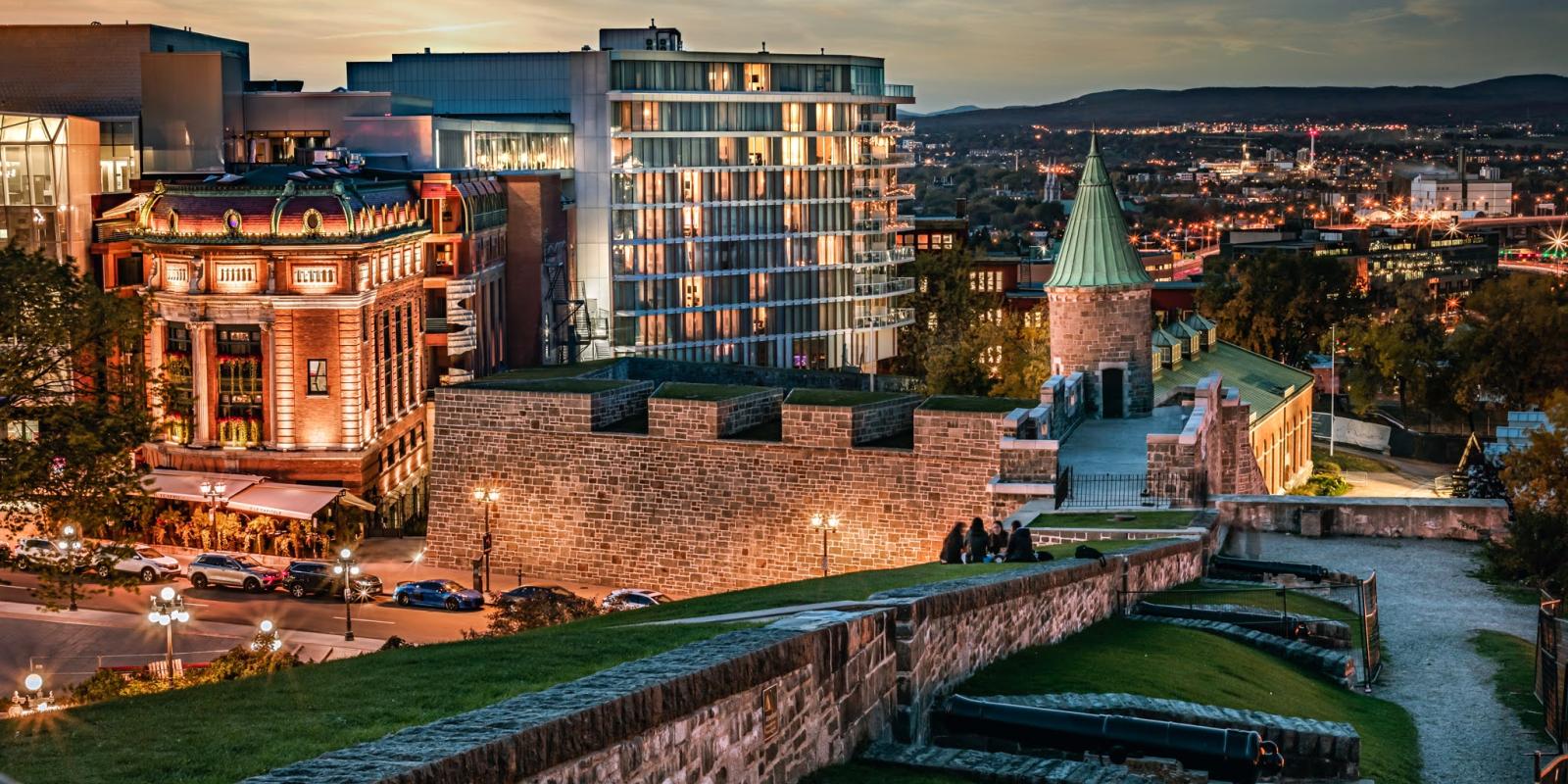 Planning an event in Québec City and looking for a showstopping venue for a business meeting, banquet, cocktail party, board meeting, or product launch? Delight your guests by hosting your event at Québec City's legendary Le Capitole Hôtel, which was renovated 2019.
Le Capitole Hôtel: Discover a 5-star property in Québec City
Le Capitole Hôtel is an event complex that offers a multitude of possibilities. Prepare to be won over by the dedicated staff, the versatility of the meeting rooms, the exceptional quality of the cuisine, and the comfort of the rooms offered by this iconic establishment in the heart of Old Québec. Located in the quartier des spectacles, the hotel is close to all major tourist attractions, the fortifications of Québec, and some of the best dining options in the city. If you are looking to immerse your participants in French culture and old-world European charm, this newly renovated hotel definitely fits the bill.
The historic hotel underwent a massive $42-million renovation in 2019, which includes:
A new hotel complex annexed to the north of the old building including 108 rooms, suites and penthouse
A swimming pool on the 9th floor and panoramic terrace
A gym and an hotel bar, the Clubby bar, located on the 6th floor
 Ristorante Il Teatro on the upper floors including 4 private lounges
The Confessional, a multifunctional ballroom
The Horizon Lounges, 2 executive lounges
A new restaurant,

BŌ 

Cuisine d'Asie
Event services at Le Capitole Hôtel
At Le Capitole Hôtel, everything is under one roof: upscale accommodations, meeting spaces, including a unique room called Le Confessionnal, the historic Théâtre Capitole, and two fine-dining restaurants that will make your taste buds travel as far as Asia and Italy.
"Exceptionally situated and just a few steps away from the Québec City Convention Centre, Théâtre Le Capitole features an opulent décor. Le Confessionnal, has a regal atmosphere that pays tribute to bygone eras; it is, without a doubt, one of the most impressive meeting rooms in Québec City," explained Alexandra Painchaud, Commercial and Business Development Manager at Le Capitole Hôtel.
Stay at Le Capitole Hôtel
Le Capitole Hôtel ticks off all the boxes for event planners that want peace of mind, seamless services, and a one-a-kind experience for guests:
The hotel has 108 rooms, suites, and penthouses, which easily connect to a modern gym and indoor swimming pool overlooking the city and Laurentian Mountains.

Le Confessional, a multifunctional event space, can accommodate up to 175 people, depending on the configuration.

An executive lounge can be split into two to welcome up to 80 guests.

3 private lounges are available for smaller groups near the Il Teatro restaurant.

The luxurious Clubby bar located on the 6th floor offers spectacular views of the St. Lawrence River and Old Québec.

Several outdoor terraces are also available for seasonal events to enjoy the warm weather in Québec City.
Be entertained at Théâtre Capitole
Théâtre Capitole is an emblematic theatre that has graced Québec City's Place D'Youville for over a century. It was inaugurated in 1903 as the Auditorium de Québec and headlined amateur and professional productions in English and French. In the 1930s, the Auditorium de Québec became the Théâtre Capitole. In 1986, the Historic Sites and Monuments Board of Canada designated the theatre as a National Historic Site of Canada. Nowadays, Théâtre Capitole is a popular venue for musicals, concerts, orchestras, comic shows, and so on. It is possible to host private events of 350 people in a round-table setup, or 1,106 people in theatre style. The venue is equipped with the latest audio-visual technologies operated by experienced AV experts that truly master the acoustics and visual possibilities in the theatre.
Eat in gastronomic restaurants that everyone will rave about
Le Capitole Hôtel's event complex has a stellar F&B offering that includes Ristorante Il Teatro and BŌ Cuisine d'Asie—both of which have covered and heated outdoor patios. Ristorante Il Teatro serves up modern takes on Italian classics for breakfast, brunch, lunch and dinner. Wine aficionados will greatly appreciate the broad selection that stems from its expansive cellar.
BŌ Cuisine d'Asie is self-described as a "meeting of the monsoons of Asia and the mastery of Québec artisans." We couldn't agree more! Using fresh local products that rhyme with the seasons. And the products are out of this (Québec!) world. Think arctic char, seaweed, sea urchins and more that meet Japanese hot pots, Vietnamese duck, and Bao like you never had it before!
At Le Capitole Hôtel, each scene of an organized event is grandiose! Conference-goers and meeting attendees alike will be ecstatic to take part in such an immersive décor that symbolizes Québec's inspiring past and thoroughly modern present.