What to do in Québec City during your convention in the summer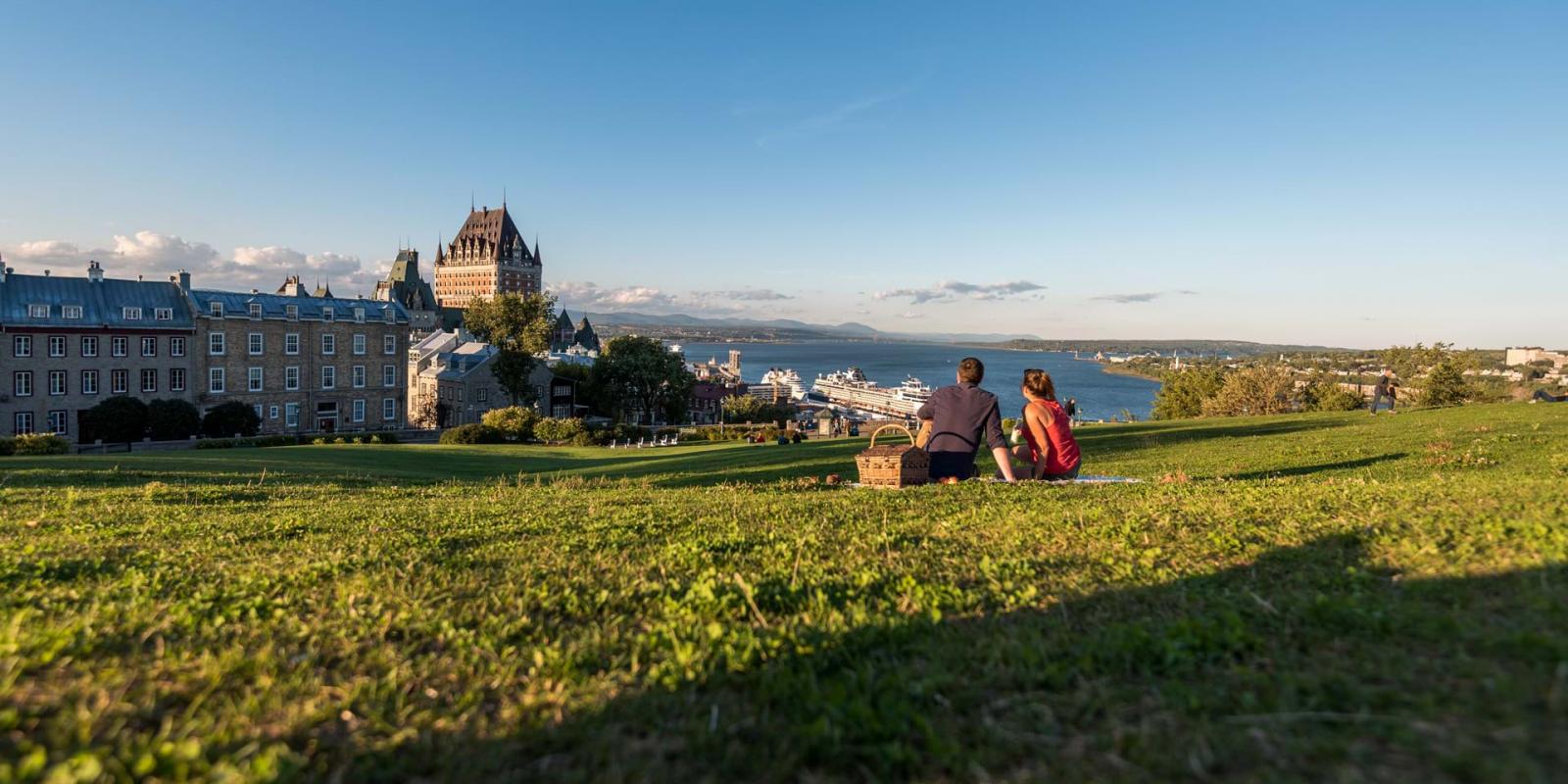 Jeff Frenette Photography
Are you an event planner organizing a conference or convention in Québec City during the summer? Are you an event attendee that is travelling to the city for an event? Would you love to see some of the city's most iconic sites—but are pressed for time before or after the event?
Well, good news! We've put together a hassle-free list of places to go and things to see based on the downtime you have before you leave. Even more good news, if your event is the Québec City Convention Centre and you are staying nearby, there are a myriad of close options for busy event planners and attendees looking to soak up at least a bit of Québec City's unique vibe. And most can be done on foot!
Under 3 hours: Old Québec
You can actually see quite a bit of Old Québec in just one or two hours. From the Québec City Convention Centre, you can walk down towards Rue Saint-Jean, which is a lively street that is brimming with boutiques, restaurants, churches and historic buildings. From Rue Saint-Jean, you can get nice views of the city's fortifications.
Alternately, you can walk up to Parliament Hill to explore Québec's National Assembly, which features a unique French-style architecture that was inspired by the Louvre Palace, and Fontaine de Tourny, a beautiful fountain that was originally designed in Bordeaux, France in 1857. The views of both Parliament Hill and the fountain are stunning both by day and night.
If you have a little more time, you can head over to Grande Allée, also known as the Champs-Élysées of Québec, which offers a string of sidewalk restaurants and cafés. The fabulous dining options on Grande Allée are only rivalled by the charming 19th century Victorian architecture that still permeates the area today.
And a visit in Old Québec cannot be complete without walking down Grande Allée all the way to the legendary Fairmont Le Château Frontenac, the most photographed hotel in the world that is perched atop Cap Diamant and overlooks the St. Lawrence River. From the hotel, you can walk on Dufferin Terrace, go to Rue du Trésor, an outdoor art gallery right beside Notre-Dame de Québec Basilica-Cathedral or take the stairs or funicular down to the Petit-Champlain District, a quaint area for shopping for unique finds and Place-Royale, with its historic Notre-Dame-des-Victoires Church—the oldest in North America—and immense fresco, which retraces 400 years of the city's history. For a visit under three hours, you'll see quite a bit of Québec City's old-world charm.
Jeff Frenette Photography

Jeff Frenette Photography

Les Fêtes de la Nouvelle-France
Half a day: museums
From the Québec City Convention Centre or downtown hotel, you can walk to the Musée national des beaux-arts, which is nestled on the edge of the Plains of Abraham, a sprawling urban park. Tour some of the museum's fascinating exhibits and then go to the park or the Fortifications of Québec National Historic Site for some fresh air and a quick tour. Prefer shopping and dining? Rue Cartier and its surrounding area is just across the street from the museum. It boasts 225 establishments, from restaurants, cafés, trendy shops and more.
Full day: festival, great outdoors and heritage
Give yourself a pat on the back: as busy as you were during your event, you nevertheless planned for a full day of fun in Québec City. While everything mentioned above can definitely take a complete day should you choose to, you may also want to head off the beaten path.
If you are in town at the beginning of August, become a part of history and join the fun during Québec City's Les Fêtes de la Nouvelle France (New France Festival). The festival celebrates the arrival of the first Europeans on North American soil. The festivities include music shows, parades, street entertainment, lots and lots of food, and people in period costumes.
In the mood rent a car for the day? Why not drive to Parc de la Chute-Montmorency, which is just minutes outside of Québec City and features 83 m (272 ft.) waterfalls that are higher than Niagara Falls! You can take a cable car up, walk on a suspended bridge or simply take in the views on top of the cliff. Afterwards, take your car and cross the bridge to tour Île d'Orléans, a bucolic island that offers an abundance of agritourism activities and terroir products.
Québec City's heritage has been greatly influenced by the First Nations communities. The local Huron-Wendat Nation at Wendake, a self-governing territory, is about a half-hour drive north from the Québec City Convention Centre. Visit the Onhoüa Chetek8e traditional site to learn more about the history of the Huron-Wendat Nation. Old Wendake also has some amazing history sites, boutiques and restaurants to allow you to fully appreciate the Nation's unique culture.
As you can see, a time-strapped event planner can enjoy a quick visit in Québec City. The only problem? You'll probably fall in love and will want to plan your next getaway here. We hope you do!
Staying in Ste-Foy?
If you are staying in the Québec City borough of Ste-Foy, at the Hôtel Classique, Le Bonne Entente, Hôtel Universel or Hôtel Plaza Québec, getting to Old Québec only takes 20 minutes by car or city bus. If you are looking to shop your heart out, three shopping centres are located side by side, including Laurier Québec, which has over 265 stores. Prefer staying outside? Take a tour of the Roger-Van den Hende Garden, located at Université Laval.