Hilton Québec: A major renovation that pays tribute to the heart and soul of Québec City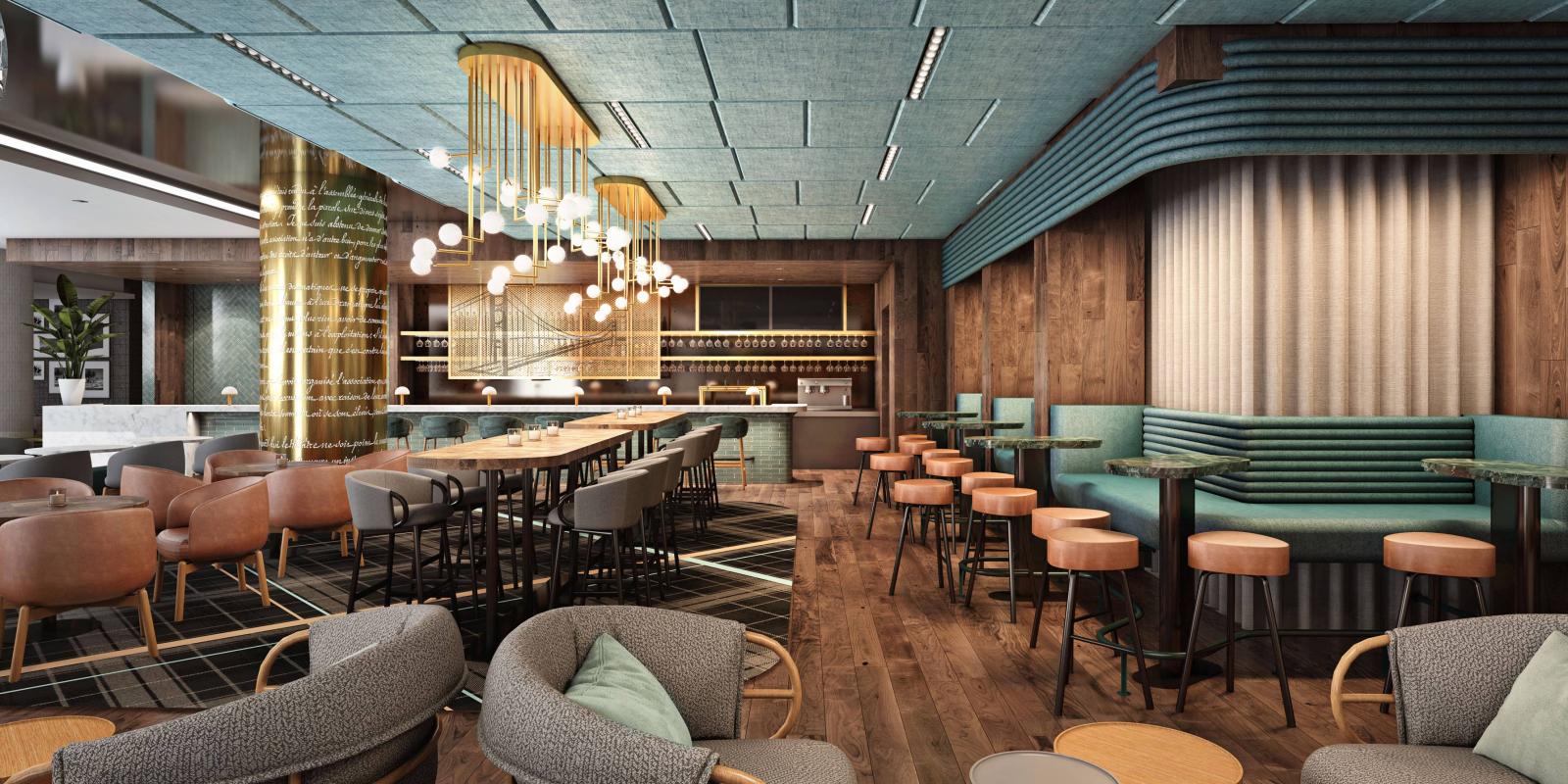 Since it was first built, Hilton Québec has been a defining landmark—both across Québec City's skyline and for the tourism and meeting industry. It is not only the second largest hotel in the city but also a highly popular destination for business travellers and event participants who attend conventions at the Québec City Convention Centre.
This landmark, located in the heart of Québec City, has undergone a bold transformation throughout 2020. In fact Hilton Québec's renovation is the largest investment since its opening in 1974.
"There is not one square foot of the hotel that has not been renovated," explained Gina Cuglietta, Director of Sales and Marketing for Hilton Québec. "The hotel's design is be extremely modern—but steeped in Québecois heritage."
An ambitious project to reinvent Hilton Québec
"This ambitious revamp project touches all aspects of the hotel's appearance, including the exterior of the building, windows, hotel infrastructure systems, guestrooms, bathrooms and public areas, such as the lobby, restaurants, fitness centre, pool, meeting rooms and ballroom. However, what will not change are the stunning panoramic views of Québec City and exceptional, friendly customer service."
Hilton Québec's renovation is not your "ordinary" hotel refurbishment. Every part of the transformation honours Québec City's culture, history and cuisine.
The local architect firm, LemayMichaud was mandated to reimagine the Hilton Québec to make it the best it has ever been. The team analyzed guest comments and poured through reviews to get a better idea of what visitors loved most about the hotel.
"What really stood out was the location and the views. Hilton Québec is only steps away from Old Québec, the Convention Centre as well as many tourist attractions, restaurants, cafés and boutiques. Québec City also has so much appeal, including Old Québec that is a UNESCO World Heritage Site—and Hilton Québec is somewhat of a gateway to a truly Québec experience."

Hilton Québec to expand visitors views of Québec City
According to Ms. Cuglietta, all facets of the hotel's smart, flexible design is a cultural and gourmet journey through past and present-day Québec. "For example, our 569 guestrooms and suites will still offer gorgeous views of Québec City, whether it is the not-so-distant mountains, Plains of Abraham, the Parliament Building, Old Québec or the city's fortifications. The decor features works from local artists and craftspeople," she said.
In addition, budding foodies and seasoned epicureans alike will relish in Hilton Québec's menus, which will showcase local products and producers—and blend Québec's culinary traditions with contemporary and international fare.

Hilton Québec's multi-functional, new meeting space
The new Hilton Québec boasts 22,328 square feet of meeting space. Two of the hotel's meeting rooms will immerse business guests into very distinctive Québec ambiances. The first room, L'Artiste, will promote Québec City's art and culture by staging one of the pioneers of Québec modernism, Alfred Pellan. The second room, L'Antiquaire, will highlight the talent of Québec artisans.
"All stakeholders in the renovation project had a very specific vision in mind," Ms. Cuglietta said. "How can we craft a quintessential, original and profound Québec experience? How can we help our guests—throughout their entire stay and with each touchpoint our staff has with them—to discover the character, the joie de vivre, the warmth of Quebecers? I definitely believe that our hotel will reflect how committed Hilton Québec is to delivering the ultimate guest experience that connects people and provides highly personalized services that today's business travellers crave."
The Hilton Québec reopened on January 1, 2021.
Key stats for the new Hilton Québec:
569 guestrooms and suites

22,328 square feet of meeting space